Tom Hazzledine
drystonewalling@tomhazzledine.co.uk
07980 564508 or 01993 868972
Tom
Tom has moved back to the Witney area. He was born in Oxford and, apart from a year in the States and two in Australia, has spent most of his life in West Oxfordshire which he knows extremely well, noting all the changes that have happened during the course of the past twenty five years or so. He attended schools in Northleigh and Witney then went to work on Eynsham Park Estate as a trainee farmer while attending Warren Farm Agricultural College. A few years later he went back to Australia to work in the outback. He returned to work on a dairy farm until, tired of the very early hours, he decided to change direction. He has always preferred to be outdoors and does not mind the weather. So drystone walling seemed a natural occupation. In 2007 he trained at Witney College while also taking a computing course.
Since 2008 he has built up a sound client base throughout the county and Westwards into the Cotswolds and Gloucestershire though he has worked as far afield as London. Other pages on this site show the range of projects he has undertaken. No two walls are identical and he takes great care to match existing stone and styles. He has built and/or repaired walls on many of the large West Oxfordshire estates, some of which are on-going contracts. While the use of cement and concrete blocks (for retaining walls) are not traditional materials they are often specified by the client.
Tom will advise you on the state of your wall, colour options, styles of capping or tops and will also undertake ancilliary work such as gravelling an adjacent driveway or removing fencing. He has built a sandpit and a chicken run and laid paving but always in conjunction with a walling project. He has excellent links with suppliers which enables him to find the right materials for you.
As well as walling he sometimes likes to break the week with garden work either on a one-off basis or more regularly. He is very observant and knows the countryside intimately - this affinity with nature gives him a special sense of what looks right. He will never hurry your work and sets himself high standards.
Tom is fully insured for public liability and is a professional member of the Dry Stone Walling Association.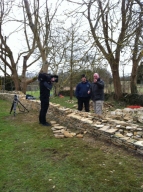 Tom (centre) being interviewed for BBC TV, 2013
From time to time Tom brings in other wallers. All will be fully insured for public liability and may or may not be members of the DSWA.
Dry Stone Walling around Witney and the Cotswolds
Copyright TPG Hazzledine © 2023