Tom Hazzledine
drystonewalling@tomhazzledine.co.uk
07980 564508
01242 263 428
Wherever you see this sign look out for Tom. He is a Professional Member of the Dry Stone Walling Association and fully insured for Public Liability

All photographs on the site

© T Hazzledine

Plenty of information on dry stone walls as well as creatures and plants that colonise them.

TRAINING - for those wishing to start learning some of the fundamentals of drystone walling.

Licenced carrier of hardcore and builders' rubble for recycling
DRY STONE WALLING
| | |
| --- | --- |
| Turning a pile of stone into a fine wall. This is 35 tons of stone used to build the walls in Aylesbury. This was all new stone for a new wall however, when a wall has fallen down or is otherwise damaged Tom will sort the stone so that as much of the old stone as possible will be reused. This is not only convenient but also means that it is ecologically sustainable and that the old stone will be mixed in with new to maintain the look of the rest of the wall. He will take away rubble, where appropriate, for recycling. | A fine traditional dry stone wall in Moreton-in Marsh incorporating a curved section. |
Some unusual ideas for your wall
You can incorporate name plates,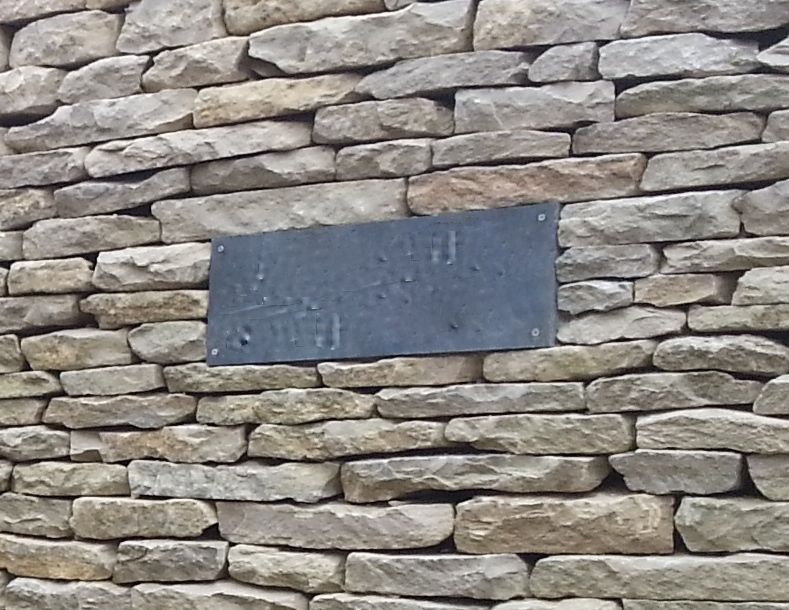 old sinks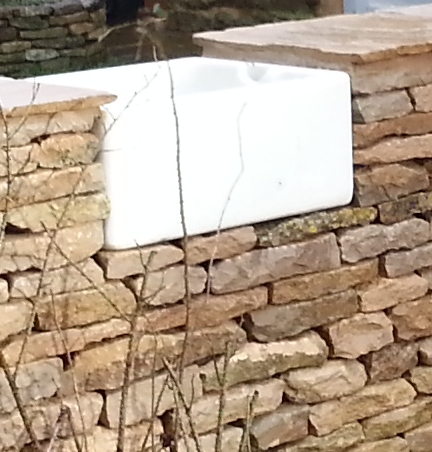 or reclaimed carved stone into your wall. You could also have an alcove for the milkman or for your post and other deliveries. Make your wall destinctive with a feature which will still be there perhaps a hundred years from now.

At Tom's own home he has incorporated both a nameplate and a flat slab as his partner Jenna produces and sells jams and eggs and other produce from their garden.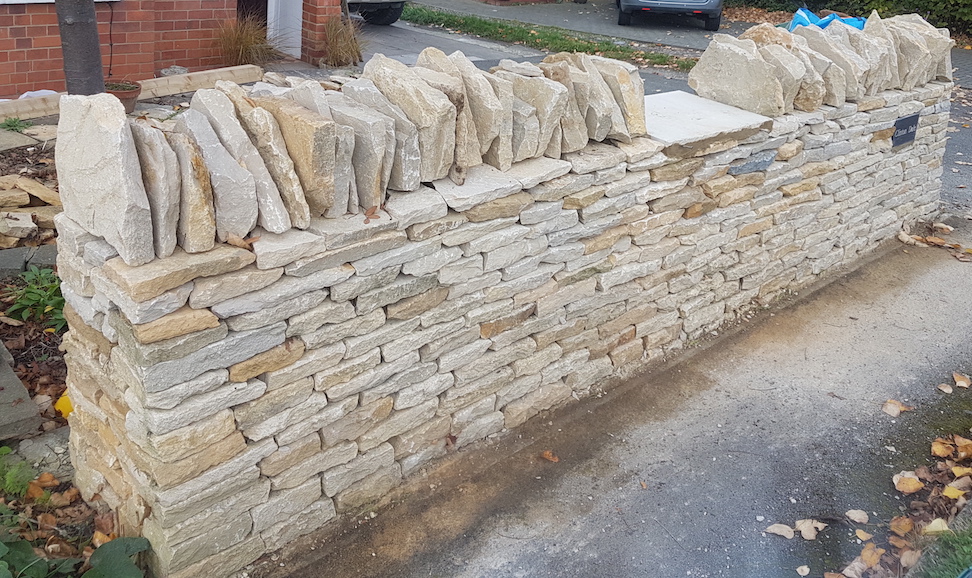 You will notice that there are different treatments of the tops of the walls. While the traditional upright copes may be the ideal it is always important to maintain consistency and thus many repairs require that other styles are used. However, as cement is more resistant than the stone it is often seen hanging over a hole in the wall and needs urgent repair.
If you have a repair it is worth thinking about changing the top of the entire wall if this is feasible.
| | | |
| --- | --- | --- |
| | A small wall in Witney - in keeping with the others in the street of this old market town where stone is frequently replaced with other materials. | |
| | | | |
| --- | --- | --- | --- |
| | | Before and after in Middleton Stoney and a completed repair in Ramsden | |
With winter rain and wind many walls become unstable to say the least. It is worth checking them all and having them made safe before they become dangerous - this is particularly the case where your wall is on the roadside and you would probably be liable. Tom can advise you and will only recommend work where it is necessary.

Tom and his team have undertaken a variety of projects. If you would like to see any of them 'in the flesh' please contact Tom and he will be happy to give you the address.

Dry Stone Walling around Cheltenham and the Cotswolds

Copyright TPG Hazzledine © 2019